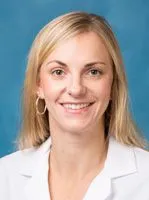 Gwen Horschel Morrow is an ARNP providing gynecologic services. Under the supervision of Dr.Victor Benezra, Gwen assists with his gynecology patients.
Gwen received her undergraduate Nursing degree from the University of South Carolina and worked as a Labor and Delivery nurse for ten years. In order to provide preventative health care and routine obstetrical care to women, she earned a Master's degree in Women's Healthcare from the University of Cincinnati.
Gwen holds several professional designations, including MD Anderson Cancer Center Colposcopy Course, Board Certified Women's Health Nurse Practitioner (WHNP), Certification in Inpatient Obstetric Nursing, and Association of Women's Health, Obstetric, and Neonatal Nurses (AWHONN) Advanced Fetal Monitoring.
Gwen is a native Floridian and enjoys outdoor activities. She also enjoys spending time with her family and friends.